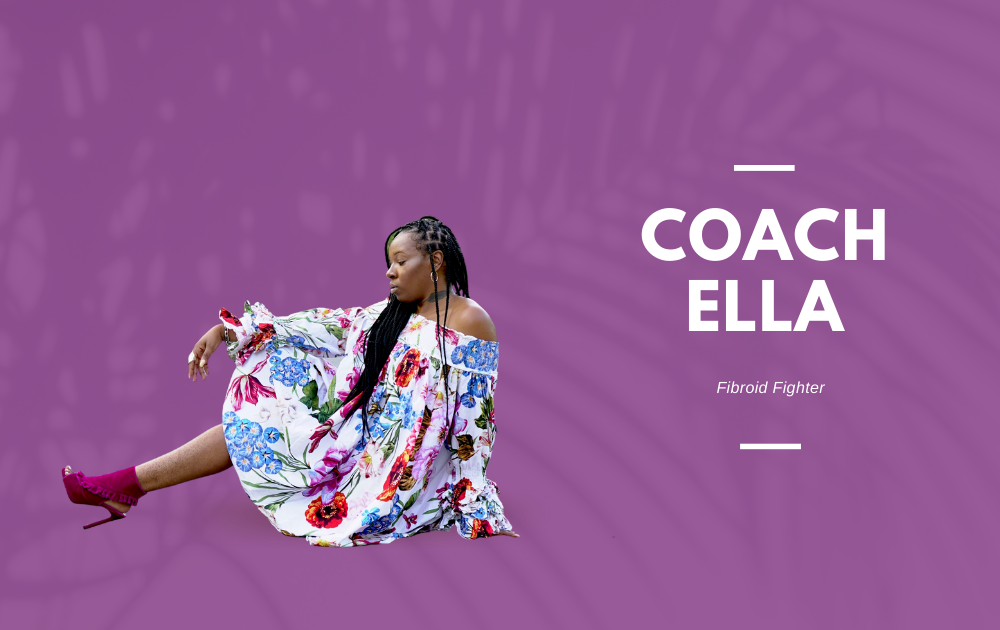 You may be surprised to learn that nearly a quarter of Black women between the ages of 18 and 30 have fibroids. Uterine fibroids are benign tumors that develop within the uterus. They impact every aspect of a woman's life by inflicting severe pain as well as heavy, unpredictable periods. Shockingly, by the age of 35, the number of women with fibroids increases to over 60 percent and continues rising with age. Additionally, Black women are three times more likely to have recurring fibroids or suffer from complications.
According to a study published by the National Library of Medicine (NIH), the average annual rate of hysterectomy, a major surgery where the uterus is either partially or fully removed, was higher for Black women. The same study also found that 65.4% of the hysterectomies performed on Black women were to treat uterine fibroids. This was in fact true for one of our most esteemed Ambassadors, Author and Life Coach Ella Destiny who went through a horrendous fibroid journey that left her fighting for her life.
Discovering Her Underlying Condition: Fibroids
As a teenager, Coach Ella Destiny was constantly feeling ill and faint while participating in regular school activities. She was told by her physician that it was because she had severe iron-deficiency anemia. Despite knowing her dizziness was caused by anemia, she knew there had to be an underlying issue causing her deficiency. "I knew it had to be something else," shares Destiny. When her mother took her to an OBGYN they were shocked to find she had uterine fibroids. "At the time I sometimes looked about seven months pregnant in high school," shares Destiny.
Even though 70 to 80 percent of women will develop fibroids before the age of 50, they are rare in adolescents, with an occurrence rate of less than 1 percent.
Forced Into Making a Harrowing Decision
Destiny shares that fibroids were common on both sides of her family. Her cousin even underwent a hysterectomy when she was very young, around 17 or 18 years old. Reflecting she shares, "They never talked about it. You just couldn't talk about it because that's the way that it was. What goes on in my house stays in my house."
It wasn't until Destiny was faced with going through labor and fibroids that they posed a serious health scare. When she was at the hospital giving birth to her son, the doctor informed her that they needed to give her two more units of blood or one of them was not going to make it through. This knowledge stunned Destiny and made her realize that these fibroids could not only be painful but also life-threatening. "At that point I said to myself: enough is enough. After I have my son, something has to be done," shares Destiny. Destiny shares that she had all of her kids early due to having fibroids while pregnant.
At this point in Destiny's fibroid journey, she wasn't given many treatment options. "It was always a hysterectomy, nothing else," states Destiny. Her apprehension of undergoing such a major surgery stretched out over two years until she decided to get a partial hysterectomy. Unfortunately, after going through the surgery there were severe complications. "They severed my intestines," Destiny painfully recalls.
Repercussions from Her Hysterectomy
For over a year and a half after her hysterectomy, she was constipated and her stomach was bloated, making her feel sick. However, Destiny didn't realize how serious the situation was. It wasn't until she went to the emergency room and vomited onto the floor. Soon after, the doctor informed her that she needed to go into surgery or she was going to die. "I ended up spending a week on life support," shares Destiny, "my bowels were poisoning my system."
When you're diagnosed with fibroids, the last thing you think of is that you could end up on life support. Because fibroids are typically benign, they usually aren't considered to be life-threatening. However, invasive surgeries like hysterectomies, often come with cruel repercussions. "I didn't know if I was going to make it," shares Destiny. She immediately thought to her two children at home; were they going to be okay? Panicked thoughts raced through her mind as she was rushed into the surgical room.
The Severity of Her Condition Worsens
Even after her surgery Destiny remembers, "I was in the hospital for a week and was not myself, almost unrecognizable. My skin turned dark and I didn't look like myself. They didn't want my children to see me that way." Additionally, the doctors informed her parents that Destiny coded three times and had to be revived during the surgery. It's hard to imagine how her parents felt after hearing those frightening words about their daughter. She pauses for a moment and comments, "That was a tough time for me." Destiny was only 27 at the time and had her entire life ahead of her.
As Destiny was recovering at home from her numerous surgeries, she experienced severe hernias. She thought her pain and trauma was over, but found herself going through hernia repair time and time again. To make matters even worse, they had to remove her navel, as well as cut through tissues and nerves, leaving her without feeling in her abdomen. "I don't have any feeling in my stomach, at all," Destiny comments, "I have a scar from hip to hip. It looks like I was cut in half."
Sharing Her Fibroid Story
This traumatic experience pushed Destiny towards sharing her story about uterine fibroids and invasive surgeries like hysterectomies. "That's why it's so important for me to share my story, even with young girls," shares Destiny. She emphasizes that she can relate to these young girls because of the pain and struggle she went through when she was their age. Destiny instructs, "It's important to tell them they have options. If you have heavy periods or times where you are passing out, find out what's really going on and see if you have fibroids." "I don't want anyone to experience or go through what I went through," shares Destiny, "It was tough, but physically and mentally."
Fibroids' Affect on Loved Ones
It's important to understand that it's not only the individual who feels the effects of battling uterine fibroids, but the entire family. Destiny comments, "My daughter was there helping me throughout her entire senior year, she couldn't go on the senior trips, she couldn't do anything because she was taking care of me." You can tell Destiny felt grateful to have such a support network during her time of need. "It took a toll not only on myself but my entire family, they were there supporting me and helping me get through day by day," shares Destiny.
Breaking the Fibroid Stigma
As we shared previously, Destiny is not only an admired Life Coach, but the celebrated author of There's Nothing Wrong With Saying So What where she helps guide people going through tough times. In her book, she often relates spirituality with everyday struggles, including going through the struggle of fibroids. "It's so important to have those conversations to break the generational curse of the fact we can't talk about it or it's taboo. We CAN talk about and have a safe place for our young ladies," states Destiny.
She shares just knowing there are empathetic women out there who have gone through the same thing, share the same struggles, and can offer advice is important. Destiny passionately expresses, "Let's have these conversations, let's educate and make our young women aware that there are other options. You don't have to have a hysterectomy, you can have children and a future after this."
We Are Fibroid Survivors
Lastly, Destiny comments how she thinks it's wonderful that organizations are pushing for women to do their own research about available fibroid treatments so they can avoid invasive surgeries like a hysterectomy. "There is hope for us and there is a fight. We are Fibroid Fighters and we are survivors and we will win this together," states Destiny.
Whether you are a survivor of fibroids looking for an alternative treatment to hysterectomy or you are experiencing abnormal period changes and need answers, the Fibroid Fighters Foundation is here for you. We are a support network that can provide you with the information you need to make an informed decision about your health. Give us a call at 855.455.5262 or contact us conveniently online.
We want to offer a heartfelt thank you to Life Coach and Author, Ella Destiny, for raising awareness about fibroids. Having brave, outspoken women like Destiny stand up and break the silence helps women of all ages get the help they need. You can watch the full interview with Coach Ella Destiny here.
Share