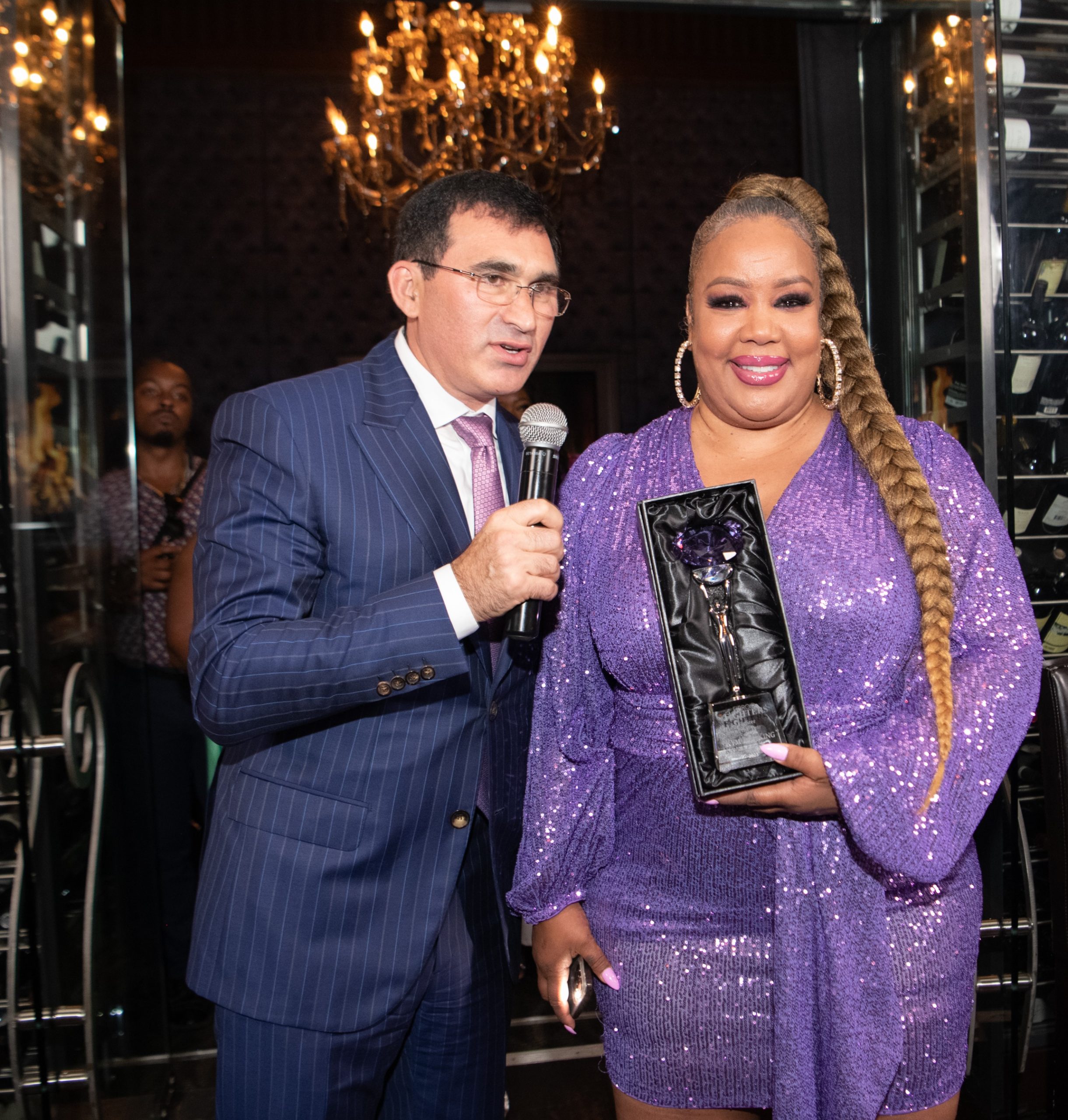 Northbrook, IL, August 17, 2023—Kym Lee-King received the Fibroid Fighter of the Year Award from the Fibroid Fighters Foundation at their annual fibroid awareness reception, "50 Shades of Purple"  for her outstanding efforts to raising awareness about fibroid treatment options. The event, which was held at the Empire Steak House, in New York City, drew hundreds of attendees and celebrity speakers.
The Fibroid Fighters Fighter of the Year award was presented by the Fibroid Fighters Foundation Co-Founders, Yan Katsnelson, M.D., and his wife, Flora Katsnelson, M.D. who created the public welfare organization to advance the cause of women's health and the safe and effective treatment of uterine fibroids.
The award recognizes an individual whose efforts have heightened awareness about fibroid disease, which affects over 26 million American women. Previous recipients include NY Congresswoman Yvette Clarke, who introduced the Stephanie Tubbs Jones Uterine Fibroid Research and Education Act of 2021, and MI State Representative of the 35th District, Kyra Harris Bolden for her efforts in introducing Fibroid Awareness Month in Michigan.
King is the host of Talk About "U", a fibroid awareness Instagram Live sponsored by USA Fibroid Centers, a leader in providing non-surgical fibroid treatment. Talk About "U" was created as a safe place for women to have honest conversations about fibroids, the effect on women's health and well-being as well as treatment options.
King also received an NYC Proclamation from the Office of the Mayor in honor of her work raising awareness about fibroid disease that affects millions of women. King was also recognized earlier this year with the President's Volunteer Service Award, a national honor that recognizes volunteer commitment.
"Receiving the Fibroid Fighter Award is such an honor," King said. "I want to help other women learn about fibroid disease and the benefits of UFE. I didn't know anything about UFE and never identified my fibroids with a disease. I want to help other women be more informed so they can get the help they need."
The "50 Shades of Purple" Awareness Reception brought together fibroid survivors, celebrities, authors, activists, and lawmakers to focus attention on fibroid disease during fibroid awareness month. The event hosted by WQHT Hot 97.1 on-air talent TT Torrez included discussions on the impact of fibroids by "Real Housewives of Atlanta" actors and sisters Cynthia Bailey, Coach Ella Destiny, Eugenia Buie, and King. The evening's entertainment included motivational speakerKeith Brown (Mr. I'm Possible) and R&B singer Lil' Mo.
The event was aimed at emphasizing the importance of knowing treatment options when it comes to fibroids.
"Hysterectomy should not be the only solution for fibroids, women should be provided with all the available treatment options based on their situation. Most women are unaware that a safer, non-surgical treatment, uterine fibroid embolization, is available." Katsnelson added.
Sponsors of the event included USA Fibroid Centers, Merit Medical, Planned Parenthood, Moore Promotions, United GMG, Antenna Satellite, USA Data, AMW PR, El Especialito, ReachTV, and Univision. Sponsor support helps improve treatment, research, and patient advocacy services.
For more information visit www.fibroidfighters.org.
Share