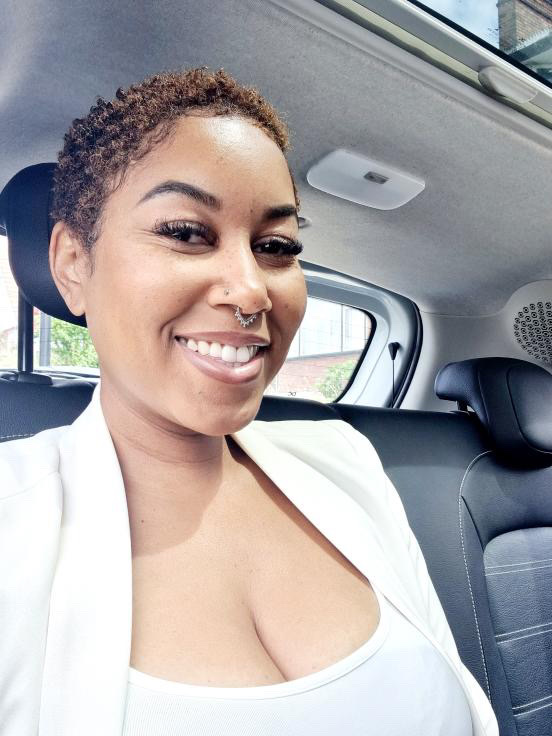 Cherelle's Fibroid Journey
"I was bleeding during intercourse and felt like I had a bladder infection, so I made an appointment to see my general practitioner. I also bled during my pap smear, which was unusual for me. My doctor attributed the bleeding during intercourse and pap smear to high cervix placement. I was negative for a bladder infection.  
Meanwhile, my periods were getting heavier and more painful. I did not share this with my doctor. Because I was not asked about my period and assumed my heavy bleeding was due to no longer taking contraception.  
Diagnosis
This journey continued until I spoke to my manager, who shared that his wife had experienced the same thing and advised me to get checked for fibroids. He told me to go to the general practitioner and exaggerate my symptoms. He told me they would not give me an ultrasound if I didn't. I took his advice and went back to the doctor. I told them the bleeding was causing me distress and bled through numerous pads. They scanned me and confirmed I had a fibroid that was 9 cm, 3.5 inches.  
The sonographer asked me why I did not know I had a fibroid as if I were a medical professional. Had I not exaggerated, I would not even have gotten the scan for a diagnosis. I was referred to another hospital that was supposed to be specialized.  
They were awful. The experience was traumatizing. I felt like I was being pushed to deal with it or whip my womb out. Some days I went to appointments only to be told they did not know what I was there for. I had to argue with staff to get scans. It was very distressing.  
My periods began to get worse. I was filling up pads, bleeding out all the time. My period would last two to three weeks. I would randomly bleed at any time of the day. The clots were the size of clementines. They would block the drain. My life just became unbearable.  
Learning More About Fibroid Treatment
One day an "angel" of a person walked into my office, and somehow, we talked about women's health. She told me she had a myomectomy at a private hospital in Kent, England. She told me how cheap it was and about the amazing care. It was music to my ears. I contacted them, and then it all changed. Benenden Hospital was amazing. They gave me medication the United Kingdom National Health Service (NHS) never offered me. They also spoke to me about all my options. They did tests the NHS did not do. They were just fantastic. I had a myomectomy, and the care was outstanding. My hospital stay was during COVID, so I had no family support, but the nurses were great. Even the cook would pop in to see me and give me my favorite yogurt flavor if they had it.  
Now I am that "angel" recommending Benenden Hospital and not the NHS to any women who will listen. I am sharing my story for the first time. I want to support others.  
Mental Health Toll
One thing I have not spoken about is my mental health. The medication I was on gives you menopausal symptoms. So that was hard.
Finally I'm Pregnant
I am now two years post-op, and finally, I am now four months pregnant.  Praying this journey is good because I can't bear any more trauma. Thank you for this opportunity."
Share