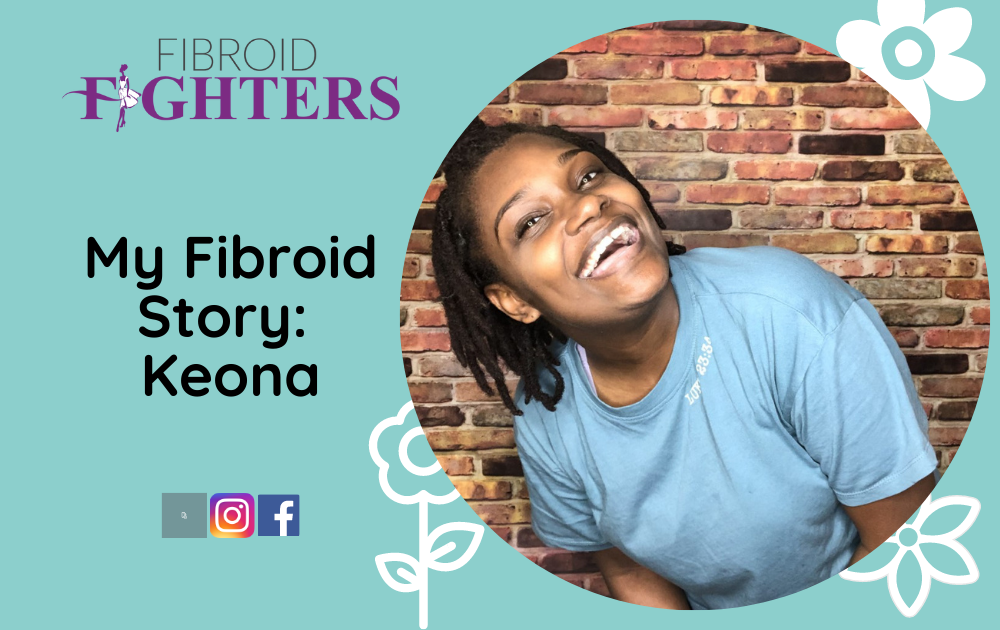 At Fibroid Fighters, one of our main goals is to raise awareness about uterine fibroids. We also want to stress how important it is to do your research when it comes to fibroid treatment, and always get a second opinion if possible. We understand that many women value their ability to conceive a child, and that opportunity can sometimes be taken away in an effort to find fibroid relief.
One of our brand ambassadors, Keona, has been kind enough to share her story with us an answer some questions regarding her experience with uterine fibroids and treatment. Keona did undergo a hysterectomy earlier this year, and although she no longer has her uterus, she is very thrilled to finally have her freedom back.
Keona's Story
"27 years old. 3 kids. 1 full year of no cycle and 1 full year of bleeding. 4 blood transfusions. Numerous visits to the hospital/ doctor appointments. As of February 2020, I have no uterus due to a massive uterine fibroid. Thank God I am not bleeding anymore, and I am so blessed for my 3 children, but I really wish I could have one more child. I wish I knew more women my age who have had a hysterectomy. I want to be able to relate to women who have been in my situation and have healed and moved on from the loss of their uterus. I'm a survivor! Thank God!"
When were you first diagnosed with fibroids?
K: I was Diagnosed with a massive uterine fibroid in November 2019.
Do uterine fibroids run in your family?
K: I questioned a lot of the females in my family to see if it ran in our family and majority said no. The only person who does have fibroids is my aunt, but she said they are not large and do not bother her at all.
What kinds of symptoms did you experience with fibroids?
K: I experienced an absent menstrual cycle for a year. When my cycle did return, I had heavy uncontrollable bleeding/ blood clots for weeks; sometimes months at a time. I became anemic. My stomach was bloated all of the time. Painful sex and lack of sex drive.
What made you pursue a hysterectomy instead of non-surgical treatment?
K: I bled for 12 months. It made me severally anemic to the point, where I needed 4 blood transfusions. If I wasn't bleeding as bad, and if the medicine I was prescribed would have slowed down my bleeding, then I would have tried the non-surgical treatment. It was either life or death and I had to make the unfortunate decision to go through with the hysterectomy.
How long did it take you to get treatment?
K: Prior to surgery they were giving me medicine to attempt to decrease the blood loss to get my hemoglobin levels up before surgery. I didn't get surgery until February 2020 after being diagnosed in November 2019.
How did you recover after your hysterectomy? Were there any complications?
K: After the hysterectomy, it was definitely an uphill battle and it still is. I'm still recovering. Some days I can feel completely fine. Then, there days when I feel like my body is telling me to rest. There were no complications during surgery.
What would you say to other woman that are currently suffering from fibroids?
K: Continue to pray. Change your diet immediately. Join a group on Instagram or Facebook that relates to your struggles while dealing with fibroids. I know your pain with Numerous hospital visits, hundreds of dollars being spent on pads, and changing bed sheets and clothes constantly. You're not alone.
Did you try other methods of treatment before getting a hysterectomy?
K: Yes. I tried birth control. After being on Birth control for 1 month, it no longer worked for me.
Anything else you want to add?
K: Trust your body. Trust yourself. Do your research along with what the medical doctors have informed you with.
Raising Fibroid Awareness One Story at A Time
We are so glad that Keona has decided to work with us to spread awareness about fibroids and the non-surgical treatments that are available. Although hysterectomies are an effective cure for uterine fibroids, this is not a practical decision for women who are prospective mothers. Keona expressed to us in her interview that she wishes she could at least have one more child before losing her uterus, but she is glad she no longer has to suffer in pain. Unlike Keona, some women may not be as lucky to have any children before they decide on a hysterectomy. This is why it's so important to us to raise awareness about non-surgical treatment alternatives to surgery like hysterectomy or myomectomy.
Share Your Story
If you have uterine fibroids, or if you've already had fibroid treatment, we want to hear from you! Sharing your story with us can be a valuable resource for other women who think they may have fibroids, are currently struggling with fibroid symptoms, or are weighing their treatment options. When you provide us with your fibroid experience, you have the opportunity to potentially inspire someone to think twice before pursuing a hysterectomy for treatment.
Share