"The reason I want to talk about the different sizes of fibroids," says TV personality Shay Johnson, "is because everyone has a different story about fibroids, the size of their fibroids, and how many they have. I wanted to give you an example of the sizes of my fibroids I had. Fibroids took over my life."
A Day With Shay
Johnson, today a leading voice for women's health, takes over the USA Fibroid Centers Instagram account for a monthly series called "A Day with Shay." Providing an insider's glimpse into her life, she shares her real experience coping with fibroids, treatment options, and talks about managing fibroids during her recent pregnancy.
Shay's Instagram takeovers are a must-watch for anyone impacted by fibroids. With her relatable anecdotes, honest advice, and open-door approach to answering questions, Johnson empowers women to take charge of their health and make informed decisions about their fibroid journey. Follow "A Day With Shay" on Instagram here.
The Different Sizes of Fibroids
Johnson delves into the size of uterine fibroids using visual representations to give women a better idea of what how big these benign tumors can grow to and how they can affect one's physical and mental health.
The Different Sizes of Fibroids, Part Two, featured here provides a visual demonstration of the sizes of fibroids. The first video covers the impact of fibroid sizes on her reproductive health.
Fibroid Size and Shay's Myomectomy
The most profound impact of the myomectomy on Johnson's life was the inability to experience the natural birth of her daughter. Her myomectomy caused a condition known as placenta previa where the baby can not be pushed out through the vaginal opening due to the placenta blocking the exit. This bittersweet moment left an indelible mark on her motherhood experience.
Johnson was unaware of options for treating fibroids, such as uterine fibroid embolization (UFE), a minimally invasive alternative to myomectomy. This lack of awareness fueled Johnson's passion for advocating for fibroid education and treatment options.
A Voice for Women
Johnson's experiences have fueled her determination to break the silence and empower women to take control of their reproductive health. She has become an advocate for fibroid awareness with the USA Fibroid Centers and her social media, using her platform to educate and support women facing similar challenges.
Through her openness and honesty, Johnson aims to foster a dialogue about fibroids, dismissing myths and encouraging women to seek proper information and support. Her story serves as a beacon of hope for women navigating the complexities of fibroids, reminding them that they are not alone.
Breaking the Silence, One Conversation at a Time
Johnson highlights the importance of open conversations about fibroids, a condition that affects millions of women worldwide. By sharing her experiences, she encourages others to speak up, seek support, and make informed decisions about their health.
Through her objective storytelling, Johnson hopes to enable women to make informed decisions about their fibroid treatment plans. She firmly believes that knowledge is power, and arming women with information can transform their fibroid experiences.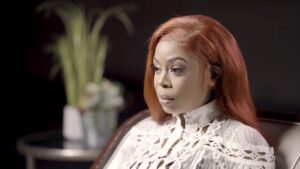 On A Day with Shay, Johnson candidly recounts her struggles with fibroids, a common condition that often goes unnoticed and under-discussed. The actor's diagnosis came after a frightening incident that left her feeling dismissed and unheard. After fainting and sustaining a head injury, she was informed of the possibility of fibroids. "It was as if I should have been aware of something that no one had ever talked about," she expresses, highlighting the lack of public awareness and open discussions about fibroids.
Her story is a testament to the power of advocacy and the impact it can have on the lives of others. Johnson's efforts to raise awareness are paving the way for a future where women feel empowered to discuss their reproductive health concerns without stigma or shame.
Take Action
Do you think you may have fibroids? Use our fibroid symptom checker.
Stay informed about the latest fibroid news and sign up for the Fibroid Fighter newsletter.
For more information, contact us at 855-455-5262 or [email protected].
Share