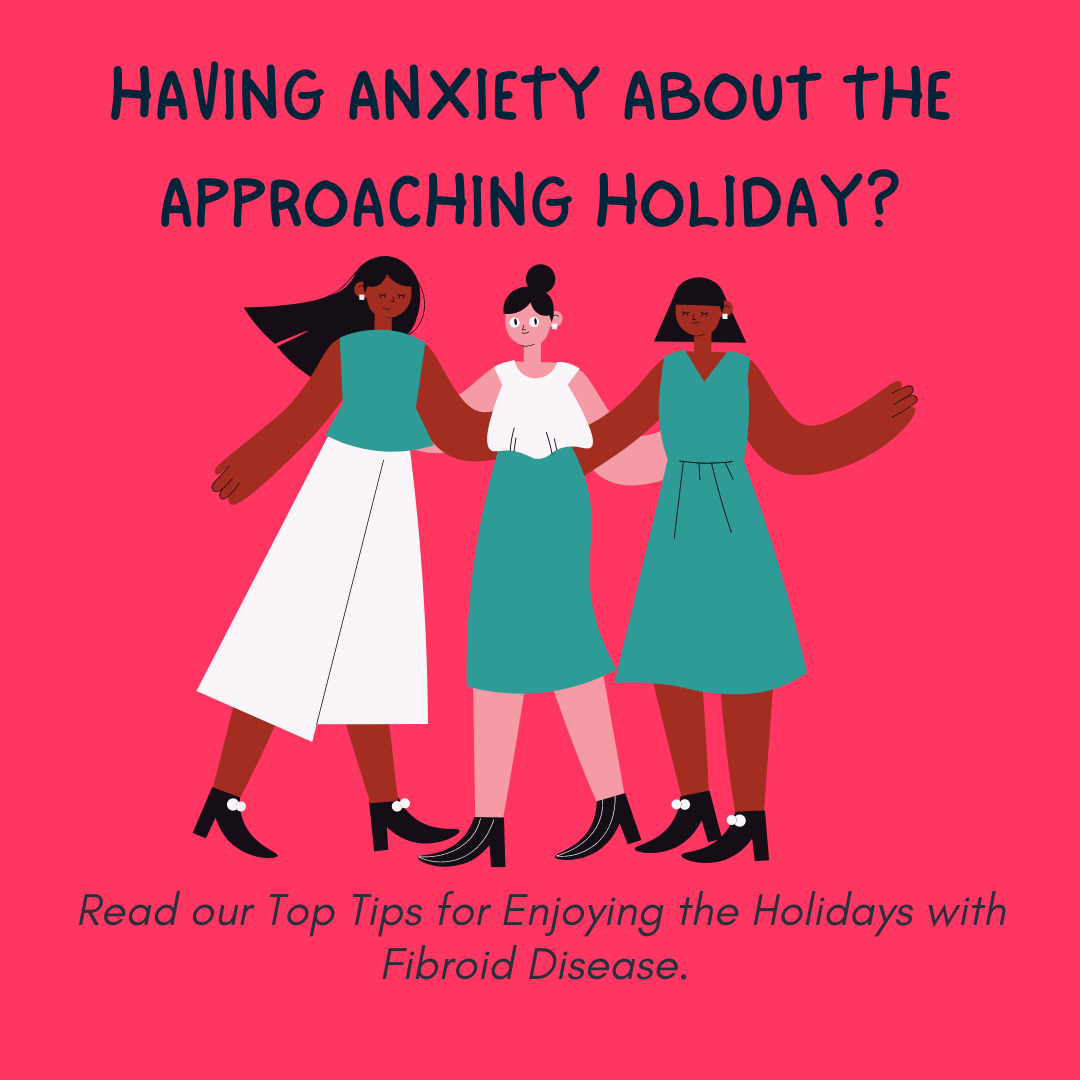 Whether you are celebrating Hanukkah, Kwanzaa, Christmas, New Year's, Three King's or Boxing Day, the holiday season is a time to connect with our friends and family. However, if you suffer from fibroids, you may be feeling a bit anxious or stressed thinking about holiday plans.
Here are five tips that can help you feel more relaxed during the holidays.
Tip One: If you are traveling, prepare ahead of time.
It can be uncomfortable to travel with fibroids, but there are several ways you can manage your symptoms. Period irregularities are a sign of fibroids. Therefore, you might not be aware of the timing of your next period.
Having the right supplies with you can help alleviate holiday travel-related stress. Making sure you are prepared while traveling by air is a challenge, especially if you can only bring a carry-on bag. Even if it is just a short flight, we recommend packing the following self-care items.
Tip Two: Listen to your body.
Recognize your limits when it comes to activities outside of your normal routine. Fitting in holiday activities can lead to stress, more physical exertion than you're used to, or not getting enough sleep. These changes could cause you to feel lethargic or result in your symptoms flaring up. Pay attention to your body; if you are not comfortable doing an activity, it is okay to say no.
Tip Three: Get enough sleep.
It is not unusual for everyone to get less sleep around the holidays, whether it is from stress, excitement or being in an unfamiliar place. Studies have shown how vital sleep is to our long-term health. A good night's sleep can be the difference between enjoying an evening of caroling or having to stay in.
Tip Three: Don't overindulge in holiday food and drink.
The holiday season is filled with rich food, and there are many temptations to eat or drink differently than usual. While you should enjoy the holiday spread, be aware of foods that may negatively affect you. Fibroids can cause overactive bladder and constipation symptoms, so it may be wise to avoid foods that might trigger these conditions.
Include foods high in iron in your diet, such as dried fruits and green leafy vegetables. Making smoothies with your favorite iron-rich fruits and vegetables can improve your holiday diet. Take iron supplements if your doctor has recommended them for you.
Tip Four: Talk to your partner, family, or friends about your fibroids
The holiday season may make you sad, especially if your fibroids are interfering with the quality of your life. Find a support group or place where you feel comfortable sharing your feelings. USA Centers' Fibroid Ambassador, Kym Lee, hosts a monthly Instagram program, "Talk About U," to share stories, perspectives, information and more about fibroids.
Tip Five: Make your health a priority. Get exams and screenings.
If you have put off taking care of yourself and fibroid pain, the holiday season might be the perfect time to see your doctor. If you haven't been diagnosed with fibroids, ask for an ultrasound or MRI test for confirmation. In addition to causing discomfort, fibroids often lead to complications such as a drop in red blood cells (anemia) which causes fatigue.
If you have had treatment for fibroids, it's important to continue regular screenings of your uterine health.
The Fibroid Fighters Foundation assists people in learning about fibroids, learning about their options, and receiving an accurate diagnosis.
Stay up-to-date with news, information and events by subscribing to our monthly newsletter – Fibroid Fighters.
We're here to help you with any questions regarding your period or other women's health concerns. Call us at 855.455.5262 or get in touch with us online.
Share