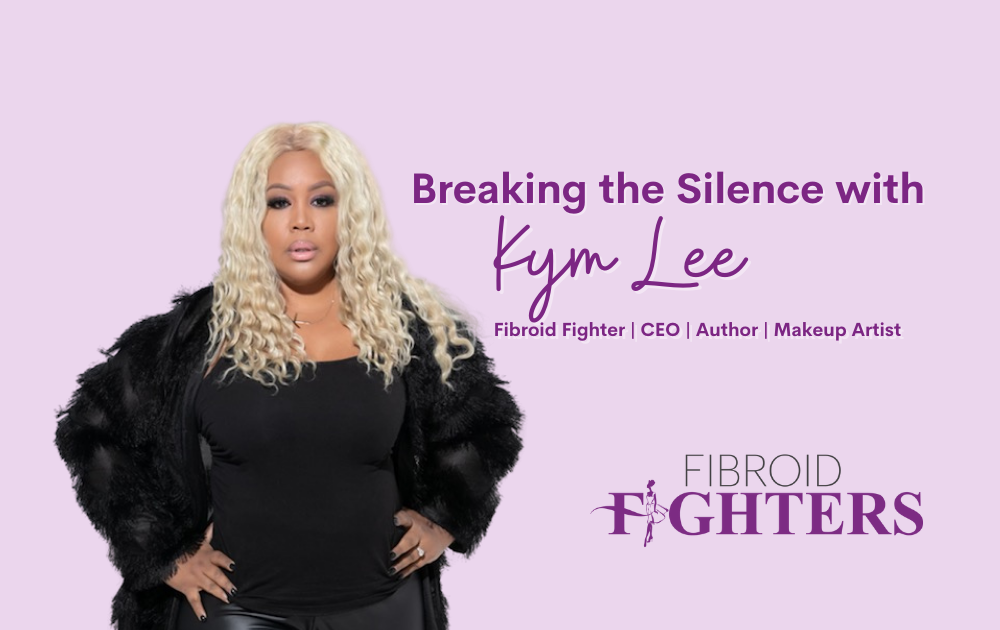 26 million women between the ages of 15 and 50 have uterine fibroids, which are benign tumors that develop within the uterus. Of those women, 15 million will experience severe, painful symptoms that control every aspect of their lives. If fibroids are so common, especially amongst African American women, why is there so much silence surrounding this pertinent topic?
We sat down with Kym Lee-King, renowned celebrity makeup artist, best-selling author of Brain Beauty: The Ultimate Makeup Guide For Your Mind, Body & Soul and CEO of her own cosmetics company, WinkN'Pout to discuss important topics about women's health. Lee-King felt empowered to share details about her battle with uterine fibroid disease and her hysterectomy procedure to raise awareness about this common experience. "If [women] don't know they have options, even though they have phones and they're able to Google, it's different hearing it from someone you trust. It's different to hear from someone who's been through it."
Lee-King felt compelled to raise awareness about fibroid treatment options, because so few women are given both surgical and non-surgical alternatives. In fact, 44% of women diagnosed with uterine fibroids have never heard of nonsurgical treatments. This lack of education and awareness are reasons why strong women like Lee-King want to help women make smarter healthcare decisions. Lee-King comments, "It's important that the message gets out to as many people as possible, so no one else has to go through this again."
Recognizing the Signs of Fibroids
It all started when Lee-King was experiencing painful period symptoms that interrupted her daily life. Heavy, prolonged bleeding is one of the most common symptoms of fibroids. Lee-King shared with us that her periods were so heavy that she was forced to "throw away probably 10 to 15 sets of sheets as well as towels, panties, etc." Not only were her periods heavy, but she was taking over 1600mg of Ibuprofen every day, sometimes even more, just to control her cramps. "I was literally popping them like candy…" says Lee-King. Additionally, she was unable to participate in everyday activities like going to the pool or wearing white dresses to special events pertaining to her career. "I missed events. Not because I didn't want to go but because I would bleed so bad before I could get there," Lee-King shares.
Many people don't consider the other side effects of living with fibroids. Lee-King says, "I lost my hair. I don't know if it was from worrying or if it had something to do with the fibroids." When you live with fibroids, you're always worried that you'll bleed through your clothes in public or your pain will be so bad you'll have to go home. Existing day to day with this chronic stress has an immense toll on your body – both physically and mentally.
Knowing When to Get Help
For 10 to 12 years, Lee-King lived with severe anemia, constantly being in a mental fog, as well as enduring blood and iron transfusions – until it all just became too much. Working with celebrities and being a CEO made Lee-King feel like it was never the right time to get her fibroids treated. "My purpose for waiting so long…was because of my life, my schedule. I work with celebrities, I always felt like I didn't have two weeks, three weeks, a month, to say no," states Lee-King. Like many women, fibroid treatment seems inconvenient, something you have to plan around, which deters many people from getting the help they need.
Lee-King shares that she had friends who suggested natural "cures" or "treatments" but they never worked for her. She wanted a quick fix, but she desperately needed a long-term solution. That's when she considered getting a hysterectomy. At the time, Lee-King felt like she was out of options. She felt controlled and trapped by her fibroid symptoms, wishing she could just lead a normal, pain-free life. "I wanted to do what was best for my family and my mental stability," says Lee-King. The last straw was when Lee-King's husband found her writhing in pain on the garage floor. He pleaded with her to get treatment for her pain, "Kym, enough is enough. This is it. I'm not going to lose you."
The Lack of Awareness About Non-Surgical Fibroid Treatment
Lee-King understood that the symptoms had become too overwhelming. "The headaches, fatigue, weight gain, I felt like my body was out of my control." She knew deep down that she needed to make a decision before her symptoms worsened, and fast. Unfortunately, she now feels some regret for jumping at that, "quick fix". "I felt like something was taken from me as a woman…" says Lee-King.
Even though many OBGYNs can initially diagnose uterine fibroids and other reproductive conditions, it's always best to see a fibroid specialist to obtain a clear diagnosis. "I saw two doctors, but they were only OBGYN's and never a specialist…" Lee-King states. At one of her appointments, Lee-King shares that her doctor informed her that the best way to treat her fibroid symptoms was to just get rid of her uterus and to have a hysterectomy. "I believed her," shares Lee-King dejectedly. Unfortunately, this is all too common when it comes to women receiving information about fibroid treatment.
You may be surprised to learn that over 73% of women who have heard of nonsurgical treatments like Uterine Fibroid Embolization (UFE) did not learn of it first from their obstetrician or gynecologist. Lee-King shares that she wasn't offered anything else and even her insurance didn't dig into what was or what wasn't covered. Just like other women in her situation, she states that she was just fed and wanted a quick solution. "At the time, I just wanted to feel better," says Lee-King.
Be Your Own Fibroid Advocate
We want women to know that they can be their own health advocate. If you're not offered a fibroid treatment that fits your individual needs and you are comfortable with, keep searching. There are organizations like the Fibroid Fighters Foundation that want to help women feel confident in their healthcare decisions.
Lee-King points out that she felt a bit slighted by her gynecologists that failed to inform her early on. "Tell me why we are going to the gynecologist every year as directed, so why is it that our gynecologists aren't telling us [about fibroids]?" Lee-King rhetorically asks. She goes on to explain how she believes that the primary physician or gynecologist should really be informing women about fibroids and regularly checking for them. Since fibroids are so common in women during their reproductive years, doctors should be having these crucial conversations with their patients.
The Fibroid Disease Epidemic
One of the most profound aspects Lee-King pointed out in the interview was that when she heard the term "fibroid disease" being used instead of tumor, it felt like a more serious condition that should be taken more seriously. "If a doctor told me that I have fibroid disease, I think those words would have resonated with me a little differently. I probably would have perhaps gotten a second opinion," shares Lee-King. At the Fibroid Fighters Foundation, we couldn't agree more. Period pain and women's health issues are often taken too lightly or discounted entirely in the medical setting. We aim to push women to seek a second opinion and consider all of their options, not just the surgical ones. Fibroid disease has become an epidemic, causing women immense mental and physical anguish.
The Fibroid Fighters Foundation aims to promote education and awareness surrounding fibroid disease by leading the discussion on getting diagnosed as well as treatment options. Want to join the conversation? Share your fibroid story with us, contact us conveniently online, or give us a call at 855.455.5262. We're here to help answer any questions you may have about uterine fibroids or other reproductive health issues.
Breaking the Silence Around Fibroids with Kym Lee
We want to offer a heartfelt thank you to Kym Lee-King for sitting down with us to share her story and raise awareness about fibroids. Having brave, outspoken women like Lee-King stand up and break the silence around fibroids helps women of all ages get the help they need to live healthier, happier lives. You can watch the full interview with Kym Lee-King here.
Share