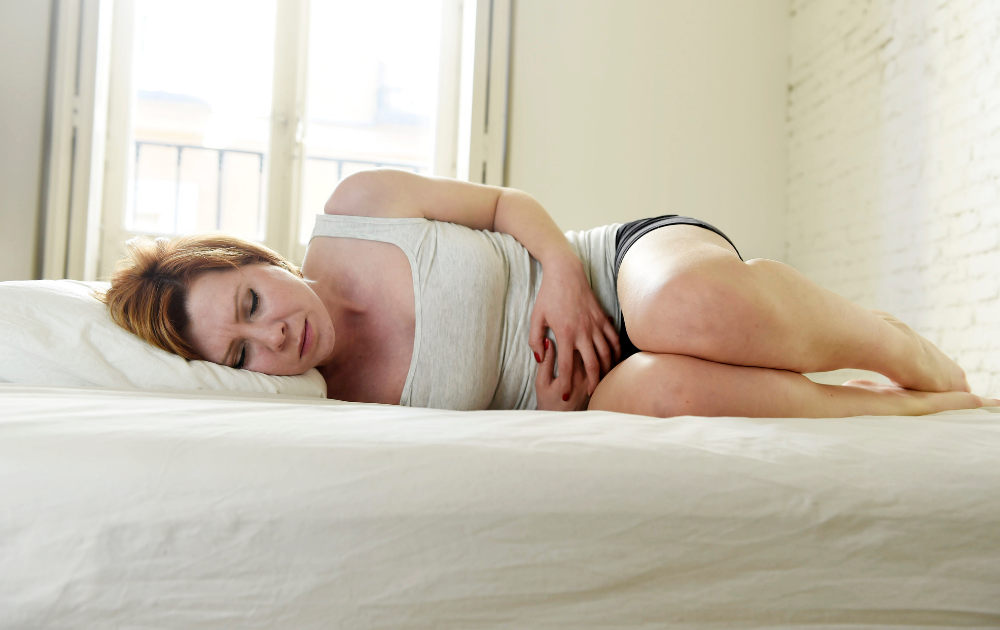 New Fibroid Research Discovers a Possible Way to Reduce Bleeding
Uterine fibroids affect millions of women in the U.S. every year. While researchers and physicians continue to make strides in understanding uterine fibroids, the root cause of fibroids still remains unclear.
A recent clinical trial, conducted on 700 women, investigated the efficacy of treating heavy menstrual bleeding caused by fibroids using a drug that consists of relugolix, estradiol (a form of estrogen), and norethindrone acetate (a form of progesterone). Relugolix is currently only approved by the FDA at a different dose to treat prostate cancer, but it is being investigated for its use in women to treat endometriosis, fibroid bleeding, and the prevention of pregnancy.
The researchers found that more than 70% of participants saw a reduction in menstrual blood loss, pain, mental distress from bleeding, anemia, and uterine volume. However, there was no significant change in fibroid volume, meaning the size of the fibroids and the number of fibroids present did not change, only the severity of the bleeding and pain the fibroids caused.
The combo drug therapy currently called Relugolix-CT is given as one pill and is currently under review by the U.S. Food and Drug (FDA), with approval anticipated for this summer. While a reduction in heavy bleeding and prolonged periods may help women find relief from that symptom, fibroids often also cause bloating, severe cramping, and infertility.
Surgical Options for Fibroid Treatment
There are currently two surgical options for fibroids: hysterectomy and myomectomy. A hysterectomy, the removal of the uterus (and sometimes the fallopian tubes and ovaries) is the most often recommended treatment for uterine fibroids. Myomectomy is the surgical removal of the fibroid tumors themselves, and many women choose this option when they wish to retain their ability to have children.
Can You Treat Fibroids Without Surgery?
There are minimally invasive ways to treat fibroid tumors with treatments like UFE and it is important to be aware that there are other ways to treat their fibroid symptoms. While many women seeking treatment for their symptomatic fibroids are told surgery is the only option, that isn't the case.
There is a non-surgical, out-patient treatment for fibroids known as uterine fibroid embolization (UFE) that can treat fibroid pain. UFE involves embolizing the artery that provides the fibroid tumor with the blood and nutrients it needs to survive and grow.
UFE cuts off this vital lifeline, which can allow fibroids to shrink in size and symptoms to reduce in severity. The body absorbs the fibroid)s) over time and painful symptoms should subside. UFE offers women relief from fibroid symptoms, such as heavy bleeding and pain, over time. After UFE, a women can return to her normal activities within a few days.
Can You Treat Fibroids With Medication?
There are other non-surgical options that can be prescribed to treat uterine fibroids. However these medications, such as Lupron; a combo drug , Oriahnn (elagolix, estradiol, and norethindrone acetate); and birth control pills all pose serious side effects and safety risks. Your doctor may prefer to recommend lifestyle changes to help you manage your symptoms in addition to other treatment methods.
It is important to note that while these emerging drug therapies do preserve fertility, women should not actively pursue pregnancy while on them.
The Prevalence of Uterine Fibroids
Uterine fibroids affect millions of women in the U.S. every year. While researchers and physicians continue to make strides in understanding uterine fibroids, such as the study that found a link between fibroids and the HoxA13 gene, the root cause of fibroids still remains unclear.
Moving Toward More Research and Education for Uterine Fibroids
Uterine fibroids are one of the most common reproductive diseases, impacting 70 to 80% of women. Despite its prevalence, fibroid disease is still not as understood as it could be, which is why advocacy groups and non-profits like the Fibroid Fighters Foundation are working with lawmakers to bring awareness to the Uterine Fibroid Research and Education Act of 2021.
The fibroid education and research bill will provide funding for studies into the causes of uterine fibroids and more treatment options. It also includes funding to track how fibroids are currently treated and to educate the public and healthcare providers on uterine fibroids.
The Fibroid Fighters Foundation is honored to work with congresspeople like Yvette Clarke and Robin Kelly to bring the uterine fibroid bill into the national conversation regarding healthcare. With bills such as this passed, healthcare for women suffering from fibroids can improve over time and maybe one day a cure for this often-debilitating disease can be found.
Join the Fight Against Fibroids
If you're ready to take action and join the fight against fibroids, you can help us spread the word by sharing your own fibroid story, donating to Fibroid Fighters to fund fibroid awareness, or finding your local representative and encouraging them to vote in favor of the Fibroid Research and Education Act.
July is Fibroid Awareness Month!
Throughout the month of July, Fibroid Fighters is taking women like you on a journey to fibroid awareness by encouraging you start conversations, create connections, and build communities between yourselves and healthcare professionals to empower you to make the best choices for your health. Check out our calendar and follow us on social to stay up to date with the latest events.
Share