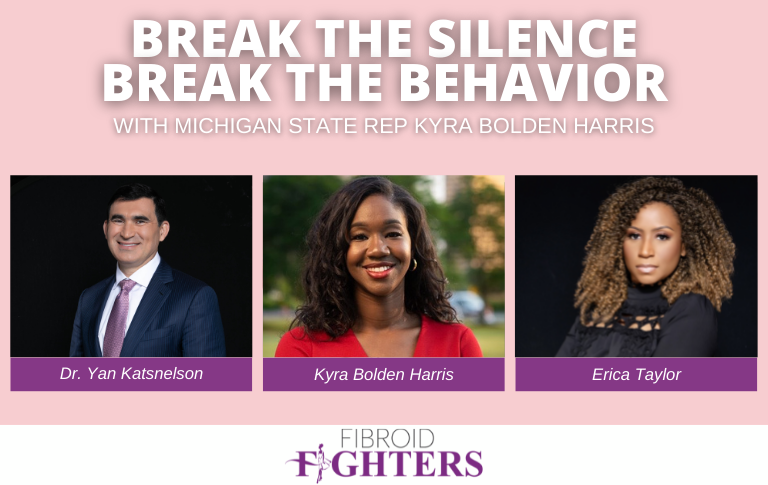 A staunch supporter of women's rights to better healthcare, Kyra Harris Bolden talked with USA Fibroid Centers' Founder and CEO, Dr. Yan Katsnelson, and USA Fibroid Center's Ambassador and fibroid survivor, Erica L. Taylor. The state representative succeeded in designating Fibroid Awareness Month in Michigan to enable women to have education about fibroid disease.
"I made fibroid disease a focal point of my legislation and an appropriation for research because of my own personal experience," the 35th District State representative said.
In the Spring of 2020, Michigan State Rep. Kyra Bolden noticed a protrusion in her stomach that rapidly increased to the size of a softball, just the nation was gripped by COVID-19.
Bolden discovered after doing some research that it was probably fibroids.
She tried to get an appointment with her doctor but had to wait three months because of the pandemic. She was able to get an ultrasound at an outpatient facility during that time, which discovered two tiny fibroids. She showed up for her appointment with her doctor, who performed additional tests and discovered several fibroids that were expanding quickly.
"The one thing I learned is the importance of having multiple diagnostic tests done," says Bolden. "After the initial exam, I thought I had two little fibroids. By the time I could get an appointment with my doctor and have a myomectomy, I had several fibroids that had grown significantly.
Bolden understands the genuine problem that fibroid disease poses to millions of women.
"I had to take time off of work for the myomectomy," she said. It is like a C-section. For me, I was able to take the time. I think about the many women who are going through this experience and must miss work. Also, the surgery or the fibroids themselves might have an impact on a person's fertility and reproductive system."
Bolden met with Dr. Yan Katsnelson to talk about ways to raise community awareness of fibroids, in a new episode of Break the Silence, Break the Behavior Video series.
According to Dr. Katsnelson, "fibroid pain paralyzes the life of the average woman. Fibroid illness promotes absenteeism, which hinders women's performance in school, college, or the workplace." Bolden, who put her experience on social media to let her constituents know why she was missing work, started receiving messages from people going through similar experiences. "Some women had much more severe cases than I did. I needed to bring my story to the house floor because this is something people do not talk about."
Uterine Fibroid disease is the most prevalent reproductive illness affecting women.
Up to 80% of women over 50 in the black community experience fibroids, compared to 70% of women in the white community. Ten million of the 26 million American women who have been diagnosed with fibroids are experiencing symptoms.
"I discovered from my research that the most common reason for a hysterectomy is fibroids. Additionally, it has a greater impact on black women," says Bolden. "I just wanted to add a voice to it," the politician said. "This is something that many of my constituents and women everywhere suffer with."
Katsnelson's goal is to focus national awareness on uterine fibroids that can cause significant pelvic pain, iron deficiency, anemia, miscarriages, infertility, and heavy bleeding. Uterine fibroids are the most common cause of hysterectomies and fertility problems.
Bolden has received support from Michigan Governor Gretchen Whitmer, who is allotting $500,000 in her proposed budget to provide funding for research. Increasing knowledge of what causes uterine fibroids and treatment are not only important for health equity but also for financial ones. The annual cost of fibroid care to the American healthcare system is projected to be $9.4 billion (about $29 per person in the US).
Both Bolden and Katsnelson advocate for community involvement to help spread awareness and bring about change in fibroid treatment.
"Talking about fibroids and bringing education about symptoms and treatment is crucial because it increases awareness," says Katsnelson.
The main issue raised by Katsnelson is the lack of treatment choices presented to women with fibroid disease, which is frequently caused by a lack of understanding among medical professionals and patients of UFE, a procedure carried out by interventional radiologists.
"Women shouldn't have to choose between invasive surgery and continued pain from fibroids, especially when FDA-approved uterine fibroid embolization, offers a minimally invasive solution," Katsnelson said.
Fluoroscopy, a real-time x-ray technique, is used by UFE to guide the placement of embolic agents in the uterus and fibroids through a tiny catheter. These substances induce the fibroids to contract by obstructing the arteries that supply them with blood. According to studies, approximately 90% of women who undergo UFE have their fibroid-related symptoms significantly or completely resolved.
"The whole procedure takes under an hour and the patient can home after two hours," said Katsnelson. "They can be back at work in two, or three days."
Bolden was only presented with a myomectomy choice in treatment.
"Even with the research I had done, I had not heard about UFE."
Her doctor recommended the myomectomy because Bolden was interested in getting pregnant within the next few years. "Having fibroids with that many fibroids of that size were dangerous because the benign tumors tend to grow with pregnancy.
Bolden feels her journey holds a glimmer of hope for other women. "I'm six months pregnant," she shared.
Katsnelson feels that the miracle of medicine lies with the development of new minimally invasive treatments. "Our focus needs to be on cure, not care," he said. "Instead of caring for diseases for 20 or 30 years, if we can cure diseases earlier, it's extremely beneficial for the patient."
Bolden's full interview on theBreak the Silence, Break the Behavior Video series can be seen on the USA Fibroid Centers News Center.
Join the fight to break the silence about fibroids
The mission of Fibroid Fighters is to raise public awareness about uterine fibroids, which frequently go untreated due to a lack of knowledge and study. They may result in severe pelvic discomfort, anemia, iron shortage, miscarriages, infertility, heavy bleeding, and infertility. Hysterectomies are most frequently performed due to uterine fibroids.
We hope the discussion goes on.
We are requesting assistance from our community in raising awareness of fibroid disease. The "Break the Silence, Break the Video Series" should be shared.
Share your fibroid experience.
Join the women who are inspiring others by sharing your story of how fibroids affected you.
Share