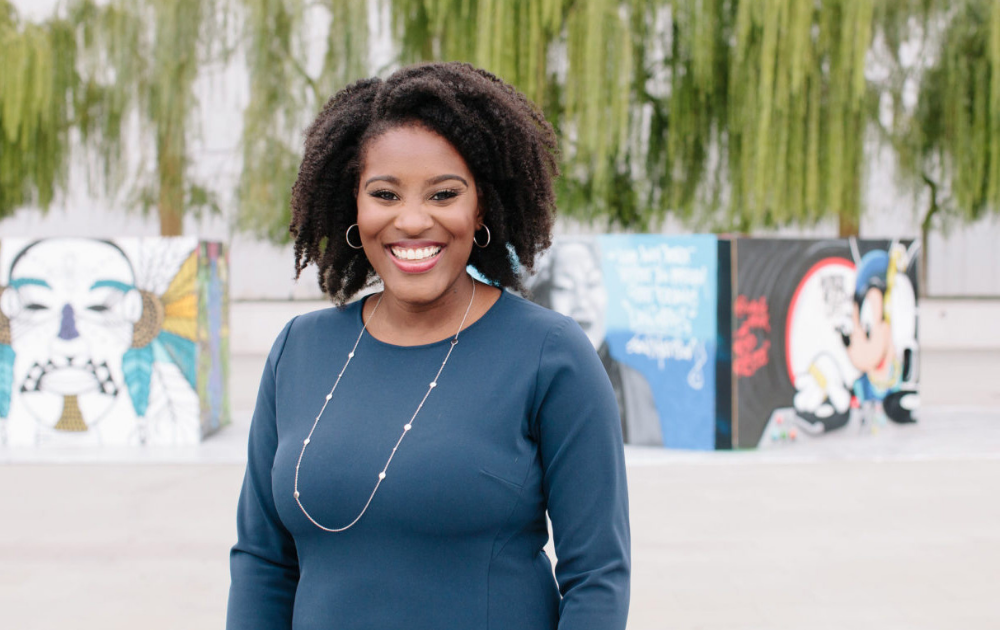 We had the opportunity to speak with D.C. Councilwoman At-Large, Christina Henderson, about the importance of providing curriculum in schools about potential women's health issues like uterine fibroids. Councilwoman Henderson is passionate about advocating for issues that impact families and children. She has promoted increased health education in schools where reproductive health topics have been previously avoided, to make sure women who are impacted by fibroids find the resources they need to make an informed healthcare decision.
Alongside Councilwoman Henderson, Dr. Yan Katsnelson, founder of the Fibroid Fighters Foundation which aims to provide awareness, education, as well as treatment information regarding fibroids, joined this thought-provoking conversation on how to best relay educational materials around women's health affecting communities across the nation.
The Silence Around the Fibroid Pandemic
Although close to 70% to 80% of women will get uterine fibroids before the age of 50, there are few conversations surrounding what symptoms to look out for and what treatments are available. In recent years, women's health providers as well as physicians have put importance on raising awareness about cervical cancer and preventative measures such as pap smears. However, other topics like uterine fibroids and adenomyosis seem to be brushed under the rug.
Additionally, the subject of how heavy should a normal period be, is not discussed enough at yearly physical exams. Women are left with the idea that it's normal to consistently experience a heavy period or severe cramps that can become debilitating at times. Thankfully, people like Councilwoman Henderson and Dr. Katsnelson are both raising awareness about what constitutes a "normal period" and when you should be more concerned. "They need to know that experiencing painful, prolonged menstrual periods is abnormal. When women suffer seven to 14 days or longer, have a heavy menstrual period, need to run to the restroom every 30 minutes from frequent urination, have spotting in between cycles or other symptoms, then it is most likely caused by fibroid disease. When it begins to affect your life, it is not normal," states Dr. Katsnelson.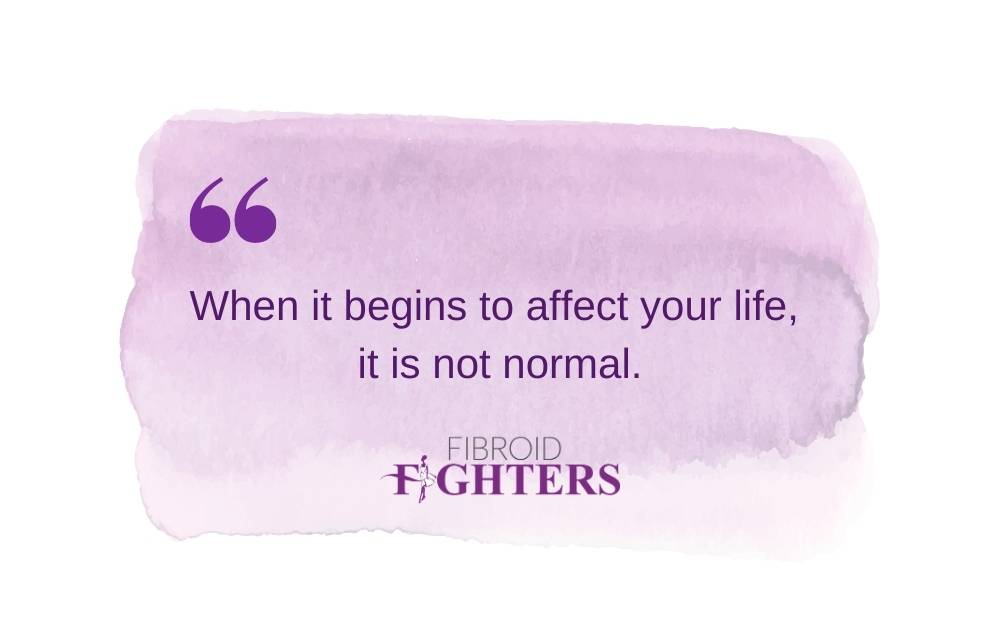 Both Councilwoman Henderson and Dr. Katsnelson agree that if women knew from the beginning that their heavy, painful period was caused by uterine fibroids, they'd be able to get the necessary treatment to improve their quality of life. Henderson adds, "We need to be more proactive about informing people in the same way we tell them to do the self care exams in the shower for breast cancer and having the confidence to speak up to your doctor to say, no, something is wrong here." Henderson believes that empowering women to be their own advocate is one of the most important first steps of breaking the silence around fibroids.
Why Aren't Fibroids Included In Health Curriculum?
One of the big questions both Councilwoman Henderson and Dr. Katsnelson focused on during their conversation was why the topic of fibroids and other common women's health issues are not discussed in health classes from middle school through undergraduate programs. Erica Taylor, who moderated the discussion, asked Henderson why "forbidden topics" such as menstrual and reproductive health are usually avoided in regular curriculum. Unfortunately, Henderson points out a good argument that men are often on the other side of these "forbidden topics". "When I was in highschool, health class was attached to physical education and who taught P.E. class? It was usually the football or soccer coach who was uncomfortable with these types of conversations with young women about menstrual cycles and reproductive health."
Councilwoman Henderson goes on to expand on the fact that politics and laws also play key roles in how much information is given to young women about reproductive health. This is especially true if you live in a state where you can only talk about abstinence as a form of birth control and other discussions about reproductive health are censored. These roadblocks prevent both men and women from learning vital health facts that will impact them for the rest of their lives. Henderson states, "It has been built into the conversations at school and in our families as well." A lot of difficult topics are avoided because they can be traumatic to talk about. "We are doing young women such a disservice by not just being honest about the situation in terms of what's ahead of you," Henderson shares.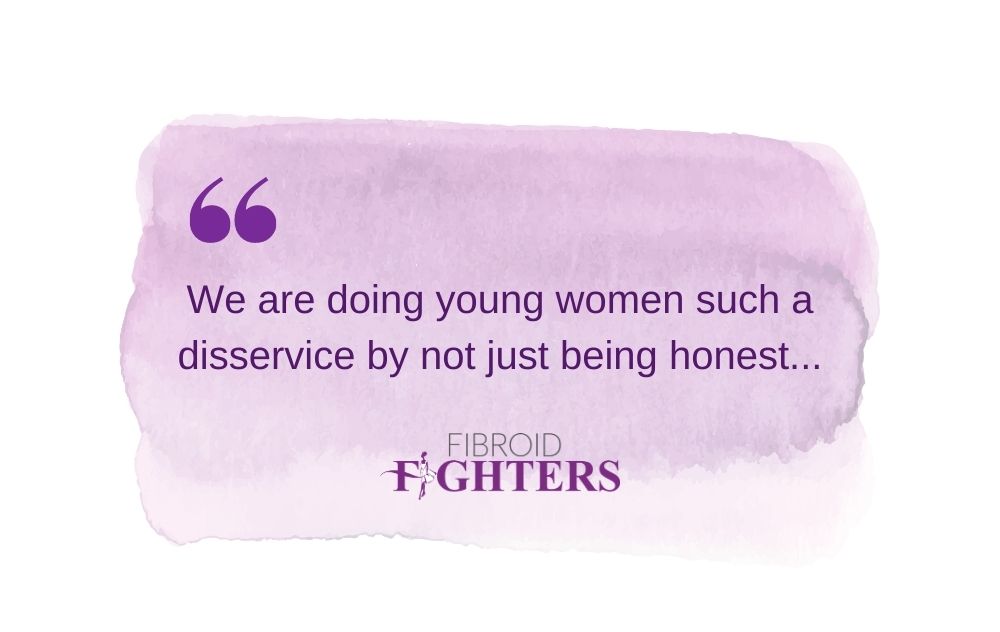 Why Knowing Your Fibroid Treatment Options Is Crucial
During the conversation Henderson shares that she has become even more passionate about fibroid awareness since she was diagnosed. "I think it's such a shame that many women don't find out about fibroids until they are ready to start a family," explains Henderson, "why didn't anybody tell me that this wasn't normal and I could have done something to prevent it. She adds, "As Dr. Katsnelson said, I could go forward with my life and what choices I have available to me." There are many different treatment paths, both surgical and nonsurgical, and it depends how it will fit with your individual needs. Taylor asks Councilwoman Henderson how young women can take responsibility for their health. "You have the right to ask physicians questions and you have the right to seek a second opinion if it's something you disagree with," says Henderson. She goes on to explain that it's important for women, especially those of color, to question their doctor and say, "No", if they are uncomfortable with their doctors' treatment suggestions. If surgery is something you want to avoid when discussing your fibroid treatment options, you should consult with another physician who can recommend a nonsurgical procedure.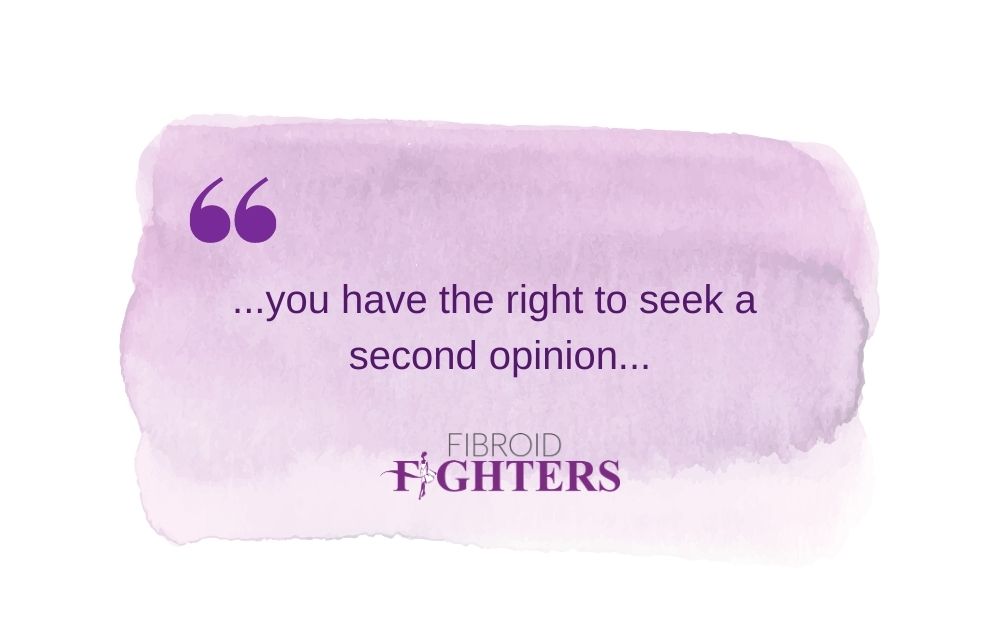 Taylor directs the question on how we can help young women learn about their treatment decisions to Dr. Katsnelson. He explains that the largest deterrent for avoiding treatment is the idea that hysterectomy, the removal of the uterus, is their only option. "If women were informed that there is a (nonsurgical) solution that could eliminate the problem and position them for the best success physically, mentally, and socially to lead a healthier life, they wouldn't avoid treatment," states Dr. Katsnelson. He continues, "Ignoring the problem won't work and talking about an actual solution for their fibroid pain does." Dr. Katsnelson believes that when people bring awareness to fibroid treatment options like Uterine Fibroid Embolization (UFE), a nonsurgical procedure that preserves the uterus and eliminates painful symptoms, they won't feel like they have to avoid getting treatment. Henderson, Taylor, and Dr. Katsnelson all agreed that raising awareness and educating young women about effective solutions is the best way to empower them to live a healthier, symptom-free life.
Why Are Some Communities Affected More Than Others?
Another topic Taylor asked Henderson and Dr. Katsnelson to weigh in was the importance of women of color being able to get access to quality health and fibroid treatment in their communities. Councilwoman Henderson points out that even though many people think the disparity is not having insurance in communities of color, that's just not the problem. She goes on to explain that having access to experienced doctors or specialists, as well as the environment you grow up in are also part of the conversation.
One of the main reasons Dr. Katsnelson created the Fibroid Fighters Foundation is to bring awareness about the necessity of accessible treatment options and facilities in communities in need. A major deterrent to finding fibroid treatment is being able to find outpatient centers where you don't have to book an appointment months in advance or stay overnight in an expensive hospital. Dr. Katsnelson adds, "If it's easy people will use it. If you bring top-notch medicine next to where women live and where there is public transportation, that's fantastic." He notes that, "it shouldn't just be centered around the doctor's schedule, but the patients' too." Understanding that people are busy and need fibroid treatment that fits their schedule is listening to the patients' needs and what is preventing them from getting access to quality care.
Additionally, Dr. Katsnelson states that the healthcare network doesn't make it easy to understand what is covered under their insurance, especially if they are under a Medicaid program. "People don't know what's covered, what's possible, what's their responsibility, how much it will cost," explains Dr. Katsnelson "Transparency and understanding is important to let women know that there is quality healthcare right around the corner that is covered under their insurance." Untangling confusing insurance lingo and raising awareness that other fibroid treatment options are available, not just hysterectomies, is the first step to helping women regain their freedom.
Treating Fibroids Through Nonsurgical Methods
We were inspired to hear from three passionate people who are committed to raising awareness of fibroids and other women's health conditions. Recognizing and discussing this disparity and lack of women's health education in curriculum, helps bring awareness that there are holes in our education system. Starting at an early age, young women need to be informed of what signs and symptoms to look out for when it comes to uterine fibroids and other common health issues. Preparing our young people before issues arise helps prepare them. As Councilwoman Henderson pointed out, women are educated too late about fibroids and not given enough information about their treatment options.
Thankfully, the Fibroid Fighters Foundation proudly helps women navigate the confusing journey of fibroid disease. We assist women from getting tested to treated so they can lead a full, active life. If you're interested in learning about your options, give us a call at 855.455.5262 or contact us online. We want to thank, D.C. Councilwoman At-Large Christina Henderson, Erica Taylor, and Dr. Yan Katsnelson for taking the time to discuss such important topics with our organization.
Share