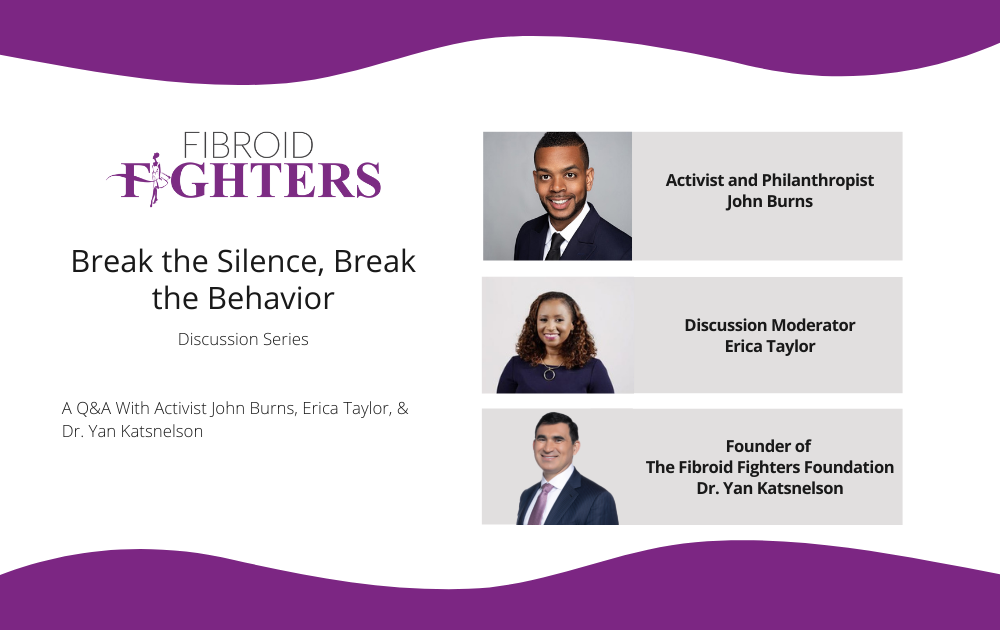 Break the Silence, Break the Behavior Interview with John Burns
Dr. Yan Katsnelson, the Fibroid Fighters Foundation Founder, met John Burns at our Fibroid Awareness Event in Washington D.C. on March 31, 2021. The two thought-leaders immediately bonded over their shared passion for advocating for underserved communities, leading to Burns being interviewed in the Break the Silence, Break the Behavior video series. There he discussed how men must advocate for and support women in the fight to end the fibroid epidemic.
John Burns is an attorney and co-founder of The Burns Brothers, an agency that combines marketing, diversity, inclusion, and culture to create programs that impact change. A noted philanthropist and community leader, John co-founded the Icon to Ican Foundation, a non-profit organization that provides mentorship and inspiration to children diagnosed with life-threatening medical conditions and severe disabilities.
Learning Drives Change
John Burns had been unaware of the extent of the fibroid epidemic before attending the Fibroid Awareness Event in D.C. "What was most compelling was the volume of women affected by fibroids—I had no idea so many women are impacted," says Burns. This lack of awareness is not uncommon: roughly half (49%) of at-risk women had previously not heard of uterine fibroids according to a 2018 study in the Journal of Women's Health.
Learning about the prevalence of uterine fibroids and the devastating effects fibroid pain and symptoms have on a woman's life inspired John to speak up and engage his community about women's health. "I learned so much from talking to Dr. Yan and other guests at the event about fibroids that I've started educating my peers and family about the importance of really engaging and being empowered in their health," says Burns.
Burns is a passionate advocate describing his work as "being a voice for the voiceless." He joins the fight against fibroids to help Dr. Yan Katsnelson and Fibroid Fighters advocate for the women suffering in silence. Men can help break the silence by learning about fibroids, initiating conversations with others, and participating also as active listeners in these conversations. "Learning provides the ability to drive change," Burns says. By educating himself about fibroids and sharing what he has learned, Burns is able to provide better support to women struggling with fibroids and to be a resource for other men who want to know how they can join the fight.
Building Awareness of the Solution
Dr. Yan Katsnelson's fight to end fibroid disease also started with an educational journey. A renowned cardiovascular surgeon, Dr. Katsnelson became interested in a minimally invasive procedure, Uterine Fibroid Embolization (UFE), after seeing firsthand how this treatment could transform the lives of his patients. The paradox, Dr. Katsnelson learned, is that while millions of women suffer from fibroids, there is a widespread lack of knowledge about UFE, and that majority of women continue to undergo, or believe their only option is, a hysterectomy.
"The importance of communication in raising awareness for fibroids is impossible to overstate," says Katsnelson. A key aspect of the Fibroid Fighters' mission includes education, not only for women, but for the American public about the health, social, and economic damages caused by fibroid disease. We need the combined efforts of women and men talking to their networks and families about fibroids to build enough awareness to break the stigma associated with discussing women's health. "The more awareness we raise about fibroids, the more normalized the discussion of them will become," says Katsnelson.
The advantage we have is that we have a solution to the disease we're fighting. Uterine Fibroid Embolization has been found to be 71-92% effective in relieving symptoms and pain, and when compared to hysterectomy, has fewer post-procedure complications as well as a faster recovery period. Our efforts are focused on building awareness of the solution, which will encourage more women to speak up about their fibroid experiences and seek treatment. Talking about fibroids and UFE is the "grassroots mobilization that can support the political engagement of leaders like Kamala Harris, Yvette Clarke, and Robin Kelly with the Uterine Fibroid Education and Research Act of 2021 and ultimately lead to change," says Burns.
Walking With Fibroid Fighters: How Men Can Help
We often hear women describe their experiences with fibroids as a journey, and John Burns also described his experience with fibroids a journey—but an educational one. Burns believes the best way men can support women battling fibroids is by learning and initiating conversations to share information about fibroids. "Men can take advantage of the fact that we are often looked to as providers or leaders in our families and communities, and make conversations about fibroids more common and more frequent," Burns says, adding that when men engage in conversations about fibroids, it makes fibroids more universal, rather than just a woman's issue.
Dr. Katsnelson agrees, saying that "As men, we have the ability to be supportive by listening to women's experiences and learning from them, by taking action to research symptoms, by calling the doctor to ask questions on behalf of the women in our lives, or by reminding them to get regular checkups." Men can walk with women on their fibroid journeys as partners, and even if they don't understand exactly what women are going through, just being there physically and emotionally is enough. Women can feel empowered by men standing with them as they deal with fibroids because they won't be taking on the fight alone.
Stand with the women in your life or community in the fight against fibroids by learning about uterine fibroids and fibroid treatment. You have the power to transform lives by educating yourself, and we have a blog full of great topics to get you started. Subscribe yourself and your friends and family to our weekly newsletter to keep the conversation going. July is Fibroid Awareness Month, so stay connected with us on social media to hear more stories from our fibroid fighters or continue learning about the impact of fibroids on women's health and lives. Reach out to us for more resources to engage, educate, and empower around fibroid awareness.
Share